Trop50 Resolution Rescue
Tweets to #ResolutionRescue are dynamically generated into personalised motivational videos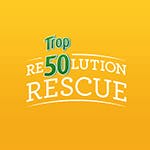 Project details
Brief
Raise awareness of the new Trop50 orange juice during winter when orange juice sales are at their lowest
Strategy
Generate a personalised video encouraging people to stick to their New Year's Resolutions
Implementation
A custom workflow with moderation, video generation/upload and reply tweeting steps
Agency
Agency Republic
Senior Creative Technologist
Audience
Morning commuters
Twitter users
Lifespan
Launch: 01 January 2014
Retired: 31 January 2014
Key technologies
PHP

CodeIgniter

Adobe After Effects

AWS Simple Queue Service
Campaign
Once Christmas is behind us for another year, it can feel like we're swamped with ads encouraging us to eat this/drink to maintain a healthy lifestyle and rectify any naughty behaviour. So instead of telling you what to do, we decided to help people stick to their own personal New Year's resolutions: whether they were to eat healthier, exercise more or make it through the month without drinking.
To drive traffic to the campaign, sponsored tweets and an integrated campaign (published in London's Metro newspaper) directed people to tweet their New Year's resolution with the hashtag #ResolutionRescue.
User Journey
The user's interaction was simple: tweet us if you're struggling with your New Year's resolution and we will help boost your willpower with a personalised video.
Artefacts
Each video animations was customised to contain the original tweet text, the user's profile picture and the user's twitter username - making it personal to them.
The end-to-end process from tweet to response was between 3-5 minutes. Generation times varied depending on the moderation queue and the template response video (as some videos took longer to render). A cluster of 15 servers hosted by Amazon Web Services picked up a job from the SQS queue and generated the personalised videos.
We pre-recorded a variety of animations to cover all possible New Year's resolutions (and some generic ones just in case).
Collaborators
Bashkim Isai
Senior Creative Technologist
Al Campbell
Executive Creative Director
James Hodson
Copywriter
Jason Keet
Art Director
Tom Cole
Head of Technology
Ian Culshaw
Developer
Iryna Svitlychenko
Quality Assurance
Victoria Copeman
Quality Assurance
Alistair Millen
Strategy
Stephen Armstrong
Business Director
Richard Templeman
Head of Project Management
Michael Robinson
Head of Design